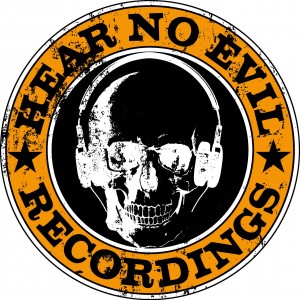 Monday 26th November sees the launch of the new hard rock and heavy metal label, HEAR NO EVIL recordings. Distributed by Cherry Red records, the first batch of releases will include three long out of print albums from the McAuley Schenker Group, plus the brand new album from London's Pig Iron (featuring yours truly on bass guitar).
PIG IRON: IV (2012)
Pig Iron's 2010′s "Blues+Power=Destiny" CD was described as "Bloody brilliant… simply a great album" by Powerplay magazine, filled with "Glorious riffage… crushingly heavy" according to KERRANG!, and by Classic Rock magazine as "Biker Metal Extraordinaire", which they were able to demonstrate in front of 10,000 Hells Angels at last year's Bulldog Bash festival. Pig Iron return with a new studio album; 'Pig Iron: IV', now featuring new axe-slinger Dan Edwards (on permanent loan from Sons Of Merrick), it heralds a return to their bluesier roots, with more wailing harmonica and a "Plant-esque howl" from singer Johnny Ogle, with a sound that Classic Rock described as "Big Rock… It's no surprise the band look every inch the scary-ass cowboys they sound like." With songs such as 'Horseshoes & Hand Grenades', 'The Tide Within' and 'Low Grade Man', this album is a definite progression from the previous three records, but also showcases a mellower side, with shades of Zeppelin's acoustic moments on 'The Curse Of An Aching Heart' and the instrumental 'Chapter 6′. The band are due to hit the stage at 2012's Hard Rock Hell to showcase the new album, and plan to tour the country in 2013 to support its release. To quote Jerry Ewing in Metal Hammer: "Someone like Lynyrd Skynyrd should take these boys out on tour – they'd clean up!" For fans of Deep Purple, Led Zeppelin Down and Black Sabbath.
McAuley Schenker Group (1987-1992)
After making his debut at a mere 17 years on the Scorpions first LP "Lonesome Crow" in 1972, guitar maestro and mad axe-man Michael Schenker spent five years as lead guitarist with the inimitable UFO, before forming the Michael Schenker Group (MSG for short) with singer Gary Barden in 1979. With four studio albums and two live records under his belt, released on Chrysalis Records between 1980 and 1984, Michael returned in 1987 for the "Perfect Timing" album, now with former Grand Prix and Far Corporation singer Robin McAuley, and a change of name to the McAuley Schenker Group, but still conveniently shortened to MSG.  The new look MSG recorded a total of four albums, starting with the melodic "Perfect Timing" (1987), "Save Yourself" (1989), "M.S.G." (1992) and finally with "Unplugged – Live" (1992). "Perfect Timing" from 1987 features three singles; 'Love Is Not A Game', 'Follow The Night' and the US Hot 100 Hit 'Gimme Your Love', and is certainly the most melodic and AOR-friendly of this batch of CDs. 1992's "M.S.G." is certainly a harder, grittier affair than the previous McAuley Schenker releases, and includes the single, 'Never Ending Nightmare'. "M.S.G." had a much harder, guitar driven sound possibly as a reaction to the grunge that was very much in vogue at the time, whereas "Perfect Timing" was a good reflection of the more commercial "hair-metal" that was the height of fashion in the mid-late 1980s. Thanks in part to MTV's popular "unplugged" series of TV broadcasts and subsequent albums and videos, going acoustic was certainly very much de rigueur in the early 1990s, which leads us to the fourth and last album by this pairing; 1992's "Unplugged  Live".  As well as key McAuley Schenker songs, recorded live in Los Angeles in 1992, the album features three UFO classics; 'Natural Thing', 'Doctor Doctor' and 'Lights Out'. The bonus tracks are unique acoustic studio versions of 'Anytime',  'We Believe In Love', 'What Happens To Me' and 'Bad Boys', all taken from the "unplugged in the studio" Japanese only mini-album "Nightmare: The Acoustic MSG". All three McAuley Schenker Group releases features 16 page booklets, each  with  new essays from Classic Rock's Malcolm Dome based on new interviews with Michael Schenker and Robin McAuley, conducted especially for this release.
Look out for new albums and classic reissues from UFO's Paul Raymond Project, Thunder, Luke Morley and Uriah Heep, among many others, in 2013. For more information, press info and review copies, please contact Matt Ingham at Cherry Red: matti@cherryred.co.uk